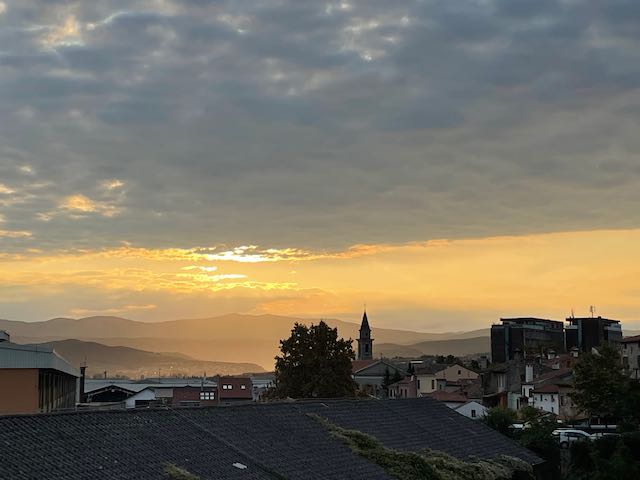 Race Report IM 70.3 Slovenia
Race Report IM 70.3 Slovenia
At last I got a chance to race!
Around July I lost confidence that I would be able to travel to the US for the 70.3 WC in St George and quietly began looking for a consolation race. I've put all my eggs in the St George basket and didn't want to let them go to waste and so I began searching Ironman.com for half distance events that weren't already booked, preferably on the same weekend as St George and within reasonable driving distance. I ended up with 70.3 Slovenia. The course looked like it played to my strengths (wetsuit ocean swim, hilly bike course, flat and fast run). I've wanted to visit Slovenia for a while. And I haven't seen the Med in three years.
As for my preparation I recycled my training program of previous years which worked well for 70.3 Oman and 70.3 Gdynia. Due to COVID-restrictions and poor weather my swimming was squeezed into the final 12 weeks before the race, but by now I am a pro at making the most of very limited pool time. As always I kept it relatively low on volume and focused on improving my technique. With work and family commitments I managed 2-3 swims per week, between 1.5 and 2.5k per session. In recent years I got a horrible lake nose in our local pond and so stuck to the outdoor pool, only doing a test swim in my wetsuit about 3 weeks out.
Since Gdynia last year I also adjusted my position on the bike. I felt that a big limiter could be my power output in my aero position. In previous seasons I stuck to the mantra that more FTP is more better, no matter what, which didn't fill me with confidence this year. Even though I usually ended up with a FTP well above 4 w/kg on raceday, my race day performance would be comparably poor. And so I fitted shorter cranks, pushed my seat up and forward and dropped my armpads. Over the course of my training I spend more time on the trainer in my aero position and included frequent burst- and sprint workouts to dial in the position and get the neuro-muscular activation patterns right. At least in practice this worked a treat and I felt more confident in pushing higher power in my aero bars.
Race Venue and Check In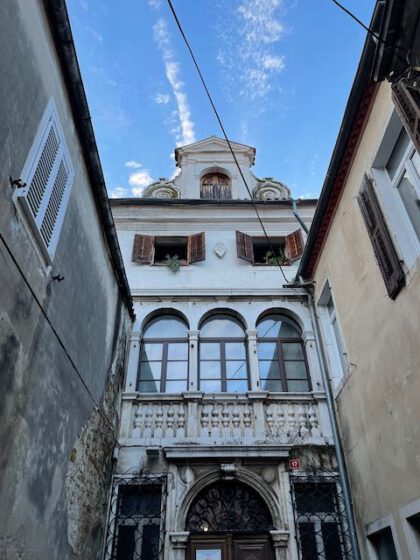 I arrived in Koper on Friday afternoon and went to collect my bib. The IM village and race office were hosted in the historic town hall, really small and not busy at all, probably a result of the number of competitors being severely restricted due to COVID. After proving my vaccination and having my license checked I grabbed my bib and a very thin swag bag before I headed back out. I like that the organizers kept it to a simple super thin backpack for bib, swim cap and stickers. Often enough the swag bag seems like a waste.
Registration, swim start, transition and finish were all very close together which made for a relaxed race weekend with short walks and no annoying commutes. Not that Koper was not a nice place to walk around, it is a lovely little town offering Venetian-style architecture and mixing it with the refreshing atmosphere of the younger and more dynamic European countries. And let's not forget that Slovenia is the unbeaten grand-tour-winner-per-capita champion. There is no supermarket or grocery store that doesn't display some sort of endorsement by the great Tadej or Primoz.
Race Morning
I got up around 5, had a quick shower and light breakfast. Swim start was set for 9 a.m., so there was plenty of time to go down to transition, fill up my bottles, double check bike and run bag before heading back to the apartment. After wiggling into my race- and wetsuit I walked back to the swim start area for a warm up. The swim start is located at the public (pebbled) beach and even though it is a compact area there was enough space for everyone to warm up in the water. I finished my warm up routine, had two gels and then self-seeded in the sub30 swim block, which was still empty.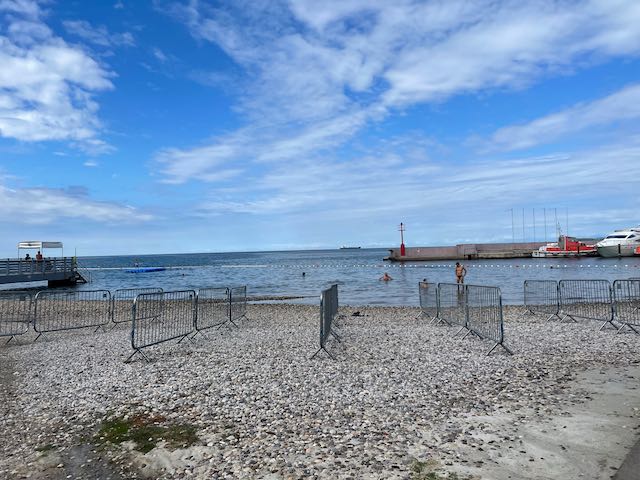 The Swim
As 9 o'clock approached the start area filled up but worryingly the space in front of me did not. I left maybe 4 or 5 meters between myself and the starting gates, but no-one seemed interested in that real estate. Usually I can swim near the front of a 70.3 and I was confident that I was correctly seeding in sub 30. But I was under no illusion that I could swim at the front. Unfortunately for me and others though, I ended up being called to the front by a race official and there I was first wave into the water. Quite a hectic start with several meters of wading-sprinting until the water was deep enough to dolphin. Then a mad dash for the first corner to get us out into open water. It was wild and it became very clear right away that I was in over my head. I tried to hold on to every single pair of feet that went past me but it wasn't until maybe 500 or 600m in that I eventually found myself surrounded by swimmers of equal pace and capability. It took me another few 100s before I recovered from all the chaos and getting my ass kicked and then I settled into my rhythm and went on with the job of swimming.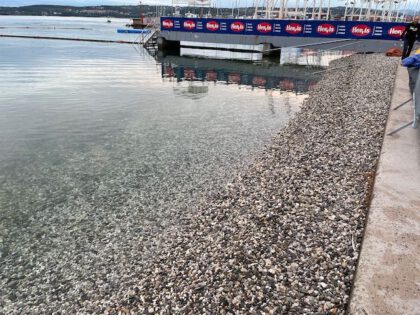 The course itself was a rectangular out and back in a south-east / north-west direction in clear mediterranean water. Navigating was easy, no morning sun glare blinding me. On the way back the course followed along the pier, breathing landwards I could even catch a glimpse of spectators. Some looking for their spouse or mum or friend, others just being awestruck by the spectacle. Eventually I reached the red bull arch and exited the water at 32:15. On behalf of my ego I have to mention that the course was 150 – 200m long according to most Stravas, so my initial disappointment at my time turned into satisfaction. I must have held a pace in the low 1:30s min/100 which is what I was expecting. Good enough for 8th in my AG.
T1
As always, unremarkable. For the first time in years I decided to not have my bike shoes clipped in. I racked right next to transition exit and there was a small climb immediately behind the mount line. It was the right thing to do, but I still don't like running on bike shoes. 2:30
The Bike
In my two previous races I did not perform to my expectations on the bike and over the course of the past year I I was thinking a lot about why. Eventually I decided to change my training focus from maximizing FTP under any circumstance to maximizing sustained power output in my aero position. Along with an adapted position I spent more time my aero position during training and made sure to include high power intervals as well. During the entire training block I would do at least one burst or sprint workout on the trainer in aero position. As a result my flat out FTP suffered a bit and I barely reached 4 w/kg. I was confident however that I would be able to sustain a higher % of the FTP for a longer period in my race position. And while this thinking probably paid off, the course in Slovenia was not particularly suited to testing my theory.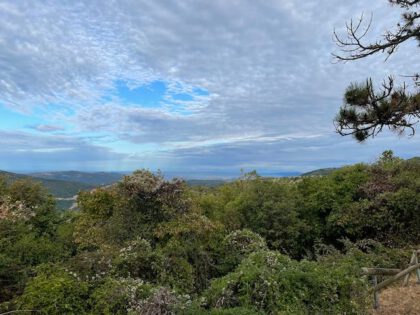 Out of T1 the course flowed through the old town of Koper and then followed along the coast into Italy. I was on my own for the first part and enjoyed the oceanview. After about 25k the road kicked upwards and was relentless from there on. A sustained 10k climb on a wide and newly paved mountainroad led into a series of nasty rollers on the plateau, twisting through villages. The lumpy nature of this section with its constantly undulating profile and short sharp climbs was tough to pace. The poor road conditions, broken tarmac, potholes and speed humps didn't help either. It became clear that smart and ego-free pacing would be the plate of the day. On the climbs and especially the small kickers and rollers in between other athletes would blow past me, while I sat up and tried to keep my power at or below FTP in my granny gear. Occasionally I could hear the labored breathing of those overtaking me and found solace in the idea that I would probably be able collect most of them again once we hit the run. Apart from the Flemish nature of the rolling plateaus the climbs were alright and the descents fairly scary. I decided to be a stupid moron and super tuck my tri bike down the big descents. I still feel ashamed for such idiocy, but in the heat of the moment I was keen on not bleeding any more time going downhill.
After going downhill for a while the road turned skywards again for another sustained climb, leading into even more even lumpier terrain. The rollers were replaced by some proper double digit kickers, the road surface became even worse in places and the final big descent was a proper one. I had one more scary situation coming down a steep hill, when one second I thought to myself "why do I smell overheating brakes?" and almost soiled myself trying to slow down enough for a sharp left hander the next.
Overall the bike course was awesome and I bet it's immensely popular with the local hammerheads. For the bike leg of a triathlon however it was challenging and difficult to pace. An honest course, with great views and very technical in parts.
Eventually all that was left was a flat 10k run in to T2. In the end I reached transition after 2:52:49, having dropped to 17th in my AG. I averaged 213NP, a PR for that duration but almost 20 watts below what I was expecting and planning for.
T2
I misjudged the approach to T2 and just barely got out of my shoes before jumping off the bike at the line. I racked my bike, put on socks and shoes, stuffed my pockets with gels and off I went. 2:14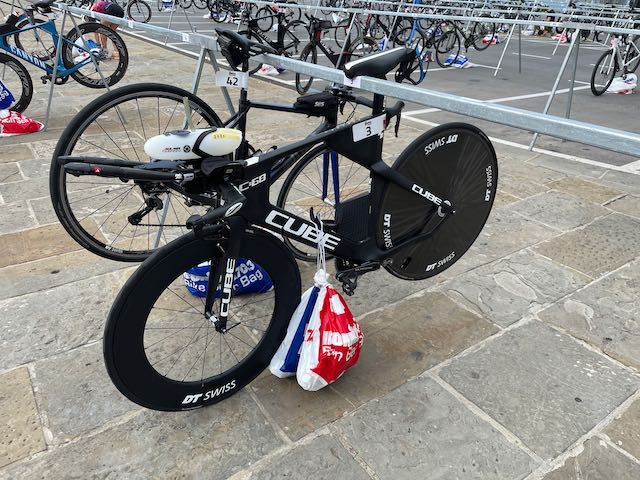 The Run
I was looking forward to the run. I felt good and in recent years the final leg of the triathlon was where I did the most damage. The only risk was that my nutrition on the bike was not ideal – I lost a bottle somewhere in the first kilometers, couldn't grab enough in aid stations and was 15 min longer out there than planned for – and the not so frequent aid stations. Apart from that I was pumped to finally run. My performance in training was equal to, or maybe even slightly above, my form 18 months ago in Oman and I was confident I could hammer out another sub 90 minutes run. Slightly optimistic I took it up a bit too fast and clocked the first 5k in 19:21, a pace I was sure I could not sustain to the end. I was however picking up one runner after another and I can't deny that I thoroughly enjoyed it. The first 8 or 9k flew by in a rush. And typically around the 10k mark is where I have to begin to actively manage my effort and start the mental work. The next kilometers were a wild ride between imminent explosion and a second (third, fourth) wind. The sunny and wind sheltered parts of the course were tough and let my RPE creep up quickly, thankfully oftentimes a shady section with a light breeze followed and that was enough to get back to sustainable suffering. As usual my mental finish line is around 16k, from here I can convince myself that I can suffer through anything for 20 minutes and it usually works. It became increasingly harder to keep up the pace, but my legs were good and it was just the overall effort that got to me. I think I lost color vision at some point and the tiniest step or downhill was agony, all in all though I performed well. I had two more runners in front of me that I couldn't quite catch, until the final aid station where I just blew past while the others took a few walking steps to drink.
Eventually I reached the 21k marker and turned the corner behind it expecting sweet relief any second, only to be gravely disappointed by the sight of the finishing chute a further 500m down the pier. This broke me, and the guy in front of me and the guy behind me. We were three runners maybe 15m apart and none could muster a last fight or sprint, all three hobbled down the chute, neither attempting a finish line sprint for position.
I came in at 1:30:22 and a bit, having climbed back up to 8th in my AG and clocking the 22nd run split overall that day, something I am proud of and very satisfied with.
Afterthoughts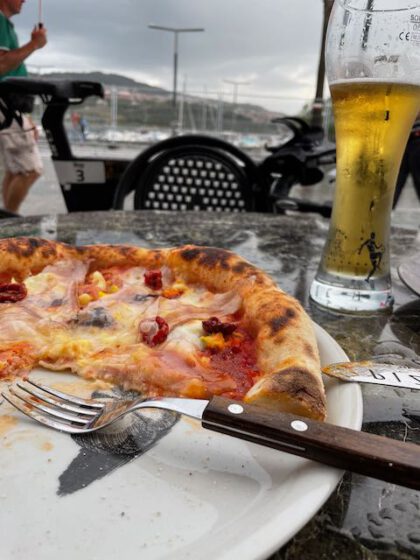 This was a good race. I swam as I would have expected, slightly underperformed on the bike, but on a course that was much tougher than anticipated. I executed another very strong run. My swim program seems to be working, the bike improvements, though focused on a small area, were successful and I kept up my run performance. I wish I could have broken through that run plateau and maybe shave another minute or two of my time – something I would think I could have done had the bike course be more benign.
The venue was brilliant. I love these obscure smaller races on the IM calendar and never get dissapointed. The people and volunteers were lovely, the town beautiful and the scenery on course very inviting. Would I recommend the race? 9/10 would recommend!