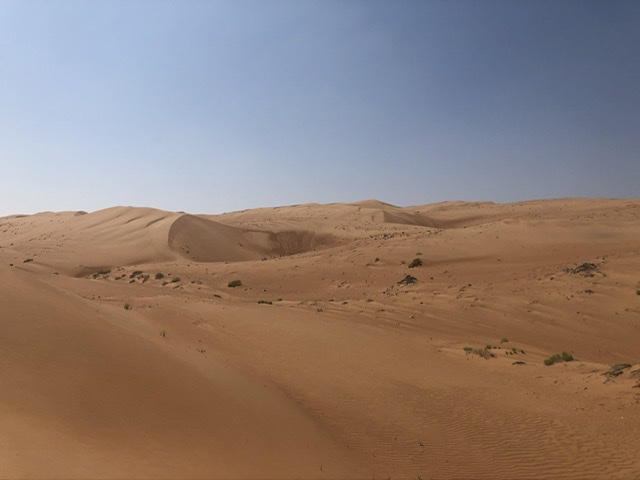 Race Report IRONMAN 70.3 Oman
Race Report IRONMAN 70.3 Oman
Race Report IRONMAN 70.3 Oman
It is Monday after the race. Sitting at my breakfast table, still stoked about the greatest race of my triathlon life so far. It was an emotional week, crowned by myself surpassing all my athletic expectations. But let's start at the beginning.
Going to Muscat in 2009
10 years ago I spent a semester abroad at Sultan Qaboos University in Muscat. Until then I've never been on an airplane or travelled outside the German speaking world. The decision to go there was in many ways life changing. During my time there I fell in love with this enchanting country and its wonderful people. I've seen impossibly beautiful things, had inspiring adventures and met friends for life.
At that time I was also still primarily concerned with three things: smoking a pack a day, finding booze and pursuing women. Two of these were quite challenging. I liked running and was racing MTB, but I was aspiring in my mind and not delivering in reality. A man of man words and of good intentions, not of results.
When Ironman announced the race in Oman I got excited. Not only was I looking for a winter race to wrap up my underwhelming 2019 season. This was also an opportunity to go back there as the person I had become since. This may sound cheesy, but I've transformed into the person I aspired to be. Hard working, successful in business and sports, living clean and healthy. I feel like my time in Muscat kicked off the transformation, it showed me that I can do and be much more than that what I thought I could. I don't know what I exactly I was looking for, but I had to go and feel the difference.
Preparation
I had the ambition to break into my age groups top ten and have a shot at 70.3 worlds. For this I worked harder then ever before and worked outmore frequently.
A typical week would look like this:
4 Rides (TR Half Distance MV – 100% TR indoor)
2 short and easy runs 5-8k, 5min/km
1 long and easy run 1:30 – 2:00, 5 min/km
1 super-violent interval session, varying combinations of 1000m, 2000m, 3000m in the 3:20 – 3:45min/km range
1, sometimes 2 swims around 2k, heavily focussing on form and technique, keeping intervals short 400m max.
I averaged roughly 600TSS across all three disciplines per week and roughly 9 hours of volume (not counting recovery weeks). Some stats for the 4 months leading up to the race:
Leading up to the race
We went for a short bike check ride before we racked our machines and dropped our bags. I then went for a final shakeout swim, before returning to our apartment. After the obligatory nap and going through my race plan for the 837th time we went out for pizza and turned in early. I had a good nights sleep, my companion not so much. Either way we awoke at 3.30am and made breakfast. Each completely in his headspace, intensely focused on what lay ahead. I was walking around the appartment with headphones on, cooking scrambled eggs with cinnamon porridge and English muffins with Nutella. I love this moment of unflinching clarity and unbreakable focus. In life I can barely limit my attention to just one thing, but here, in this moment, I was one…with my breakfast.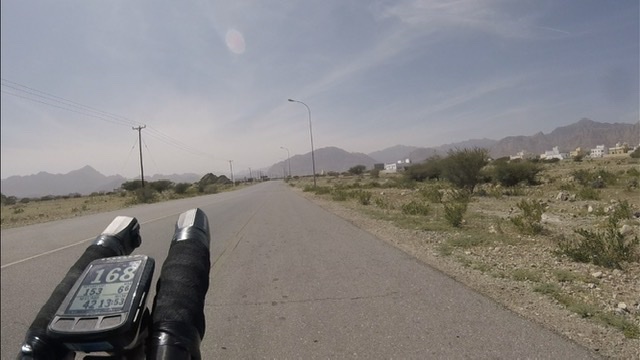 I'm not a superstitious person, but since we got here I was slightly depressed because of my hair. There was no hairdryer in our Airbnb and I was doomed to wear hats all week. Race morning though? I magically awoke with very good hair. Not perfect, but close. I took this as a good omen to carry me through the day.
We drove to the start early to get good parking and visited the bikes, pumping up the tires, clipping in shoes and filling water bottles and tanks. Then we received more good news, the swim would be wetsuit legal. Not that I relied on my wetsuit entirely, not that I figured it would give me much of a relative advantage. But I am a vain man and wetsuit + saltwater meant that I would have a chance of having a good looking swim split on my certificate and that I could brag about a sub30 swim.
The Swim
There was some confusion regarding start times, as the athlete guidebook stated 6.30am but apparently the organizers decided on 7am. I learned this after the obligatory pee&warm up splash and so we had plenty of time standing uncomfortably in the starting block. Admiring the sunrise, being grateful for this insane privilege to travel 5000km just to race a triathlon. Reflecting on whether we want to pee in our wetsuit before the race ever again. We seeded near the front, maybe at 15-20% of the pack. It was a rolling start and the tide was slowly receding. So out of the gate, running to the water line, wading through the shallows, dolphin diving a few times and then we were off. It is a simple rectangular swim and the water was calm. On the way out I had some traffic to navigate, but I found my rhythm quickly. It is the only downside of a rolling start that you have to search for a good draft a bit longer, but after turning the second corner I eventually found a small group to hang on to. We took turns at the front and reached the beach at 28 minutes, giving me an official swim time of 28:57. Perfect conditions, but nevertheless a nice number and PR.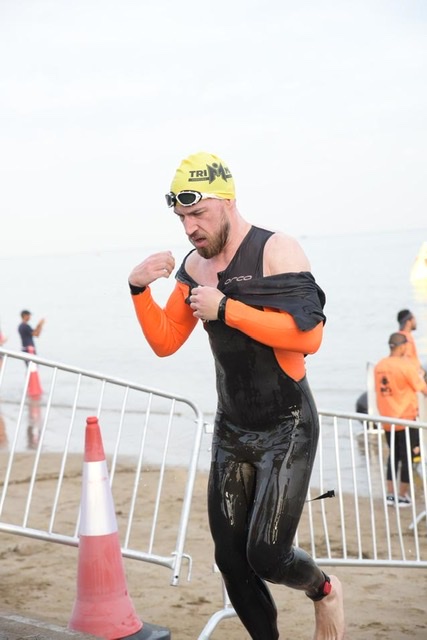 T1
Entirely unremarkable. Wetsuit off, helmet on, run to mount line. Mount bike, start pedaling.
The Bike
The bike course was bound to be awesome. Based on my workouts I was planning on 215-220NP, which would put me at 3.1 w/kg and an IF of 0.81. the upper end of the recommended range, but I felt entirely confident with this strategy. For fuel I brought 1.8 liters of Tailwind for a total of 750cal, which should be ideal for a 2:25-ish ride. I would take on additional water in aid stations and had a salt tab ready for later.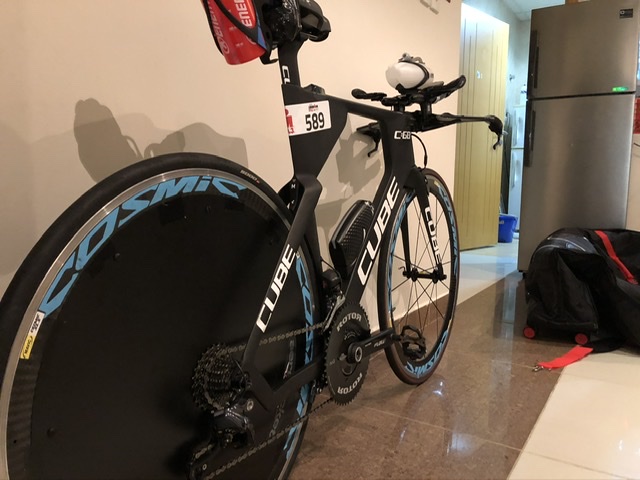 The course was so cool. For one, they closed big roads for us. It's really something to hammer through downtown on a 3 or 4 lane highway. There was one braking bump towards the first turnaround, that caught many off guard the first time around. On the way back I decided to something stupid and jump it, which turned out surprisingly excellent. I actually caught some backside at the discount price of almost losing my seat mounted bottle. From there we went on a closed highway along the coast to the old port with a few small rollers on the way. As always I paced diligently, much to the confusion of my fellow competitors, many of who would push past me on the incline, just to be retaken on the descent or following flat. People of triathlon, here is a tip: If I can cruise past you easily in my tri bars you may reconsider taking the risk of super-tucking your TT bike. It is scary af to the beholder.
Once past the port the course turned inland and up a climb. A steep climb, where I ran out of gears early. I was furious with myself, as I had planned for everything, but somehow missed this. I grinded my way up there, losing plenty of positions, but trying to keep my power within range as much as possible. My buddy with whom I had started and must have dropped on the swim course powered past me cheerfully. I responded grumpily.
Once up the hill the course turned onto a rolling highway on a mountain plateau. This landscape of desert, mountains and a few palm trees scattered in between is impossibly beautiful. For a while I was on my own and settled into a sustainable rhythm, carefully modulating my power to keep it on on the descents and not overdo it on the uphill rollers. Eventually the course turned onto another highway that would be the final out and back. Fairly exposed, some wind and a loooooong false flat. It was here that my average power began to drop. I was caught in the middle of a bigger bunch of riders who were more pacing like Roadies, pushing up the smaller inclines, letting up on the downhills. I would constantly be overtaken and retake these guys, much to my and their annoyance. Couple that with people not understanding the rules of being overtaken and your power starts undulating. I decided to let up for a while and let them go to race my own race. I was confident that I would collect them all on the run course.
After the turnaround it was almost all downhill. I began watching my time, being 5-10 minutes behind my race plan, I was doing the math in my head. With a quick swim and transition I was still on track for my overall goal, but I wanted a sub 2:30 badly. For the remainder of the course I gave my best to stay as aero as possible and keep the power on even on the fast sections.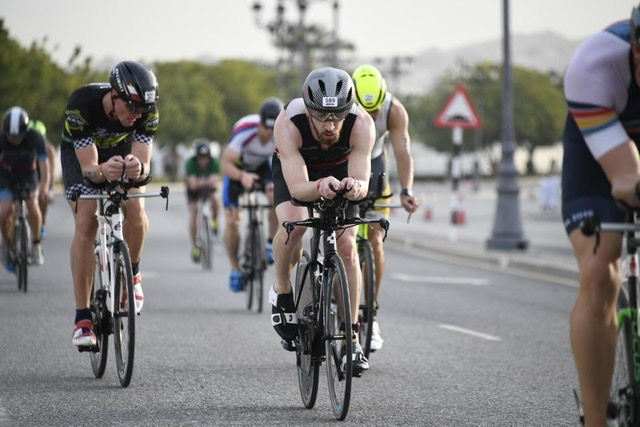 I reached T2 barely within time, had a quick pee on the bike and took a gel shortly before I dismounted. 2:29:40
T2
Nothing to see here. Helmet in bag. Socks, shoes, sunglasses and hat on. Onwards!
The Run
The race plan was to begin slowly, ramp into a 4:30 pace and see what's left near the end. In reality I clocked the first km in 4 minutes dead. I knew that was too fast, but I felt strong. My stride was relaxed and fluid, my breathing was under control.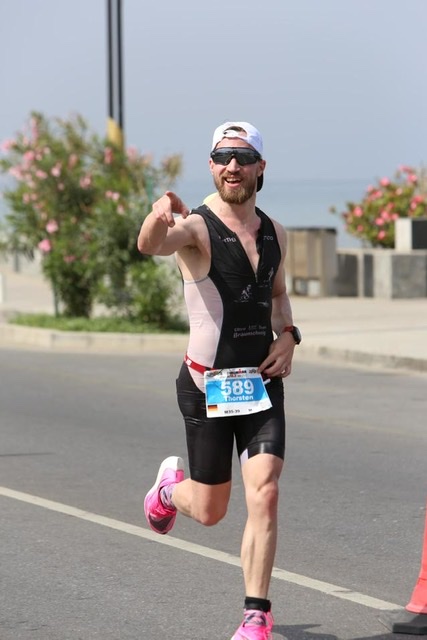 I let up a bit and decided to not look at my watch anymore but pace to RPE instead. Focusing on excellent form, a relaxed and bouncy stride and controlled and relaxed breathing the miles flew by. I also collected plenty of other runners, pretty much everyone I tangled with on the bike got owned on the first loop, on the second loop I was more or less on my own, weaving through first-lappers.
At the first turnaround I was surprised to see my mate coming the other way. Maybe 5 minutes ahead of me and he looked strong, but not fast. I figured I might have him by the end of the race inshallah as they say around here. I took a sip of water and a cool sponge at every aid station, and had another gel around k8.
From here on things became progressively harder, but I maintained my pace. After re-watching the best movie of all time recently I had a new mantra – inspired by Amy Adams legendary scene I told myself that I would "wrestle that run course to the ground like a demon cobra". I know right?!
The volunteers were world class. Cheerful, motivating and genuinely supportive I massively enjoyed every aid station and did my best to express my gratitude. I owe a large share of that run performance to the guys and girls manning the aid stations.
Once on the final lap I knew that everything would be okay. I did not have anything left in the tank, but neither did I have to slow down. I would just power through, the last miles becoming exponentially harder by the inch. With 600m to go I got view of my companion, maybe 100m ahead of me. There was nothing else I could do, I would not take him before the finish line, but I would get really close! Eventually I finished 19 seconds behind him.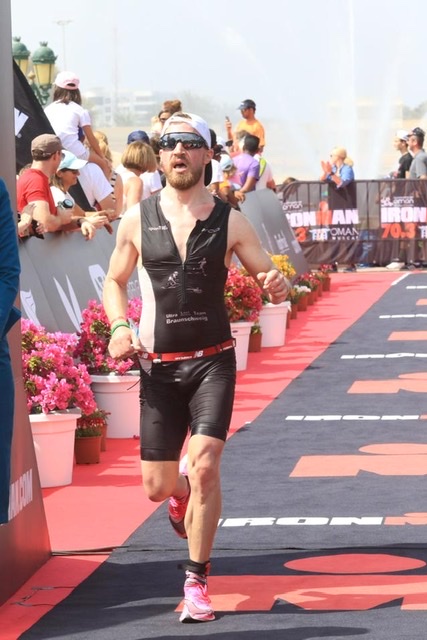 Into the chute and there was some confusion. First woman was close behind me and they were getting ready to welcome her, so I tried to get out of the way as quickly as possible. I collapsed a few meters behind the finish line, but someone dragged me into the athlete garden and resurrected me with a cold beverage. I finished the run in 1:28:38, almost 15 minutes faster than previous 70.3 runs and lifetime 3rd best half marathon. It was good for 4th best run in AG and 13th best run of the day overall.
Reflections on the Race Overall
It was a brilliant experience and on that day the perfect race. Every single tiny detail went as planned and it could not have gone any better. The organization was smooth and well thought out, the enthusiasm and energy of staff and volunteers made this a truly wonderful experience. The bike course was very well secured, there were volunteers or police at every crossing and entry ramp. I've never felt so safe in a tri race and other races should take note.
I am very happy with my swim time and to be honest I am kinda grateful to the universe that I can swim at the back of the front pack without spending too much time in the pool. I am also extremely satisfied with my run, which was way above and beyond what I was expecting. I had a feeling that I would be fast, but until two years ago a sub 90 open half was my life's goal. I just hope that I can identify what lead to this result and repeat it in the coming weeks. Transitions were also smooth and easy.
The ride however is what left me slightly dissatisfied. I delivered the power numbers I planned, but it did not yield the result expected. I fiddled with BBS quite a bit and based on cda estimated from previous races I should have been 5-8 minutes faster. I paced well enough to set up a strong run and I stayed in my aerobars whenever possible. The only things that changed where my clothing – sleeveless one piece vs. short sleeved two piece in previous races – and I angles my extension down a few degrees. I don't know whether that made the difference or whether my power meter drifted or if there is something else going on. But looking at my results, the bike is right now the weakest link. Transitions are quick, swim and run are AG top ten and 95 percentile overall, the bike is closer to 85 and AG top 20. I'll rethink how to approach this, because sadly I will not be able to increase my volume. Neither life allows for more time, nor could I absorb more training, I've already hit my ceiling a few weeks ago.