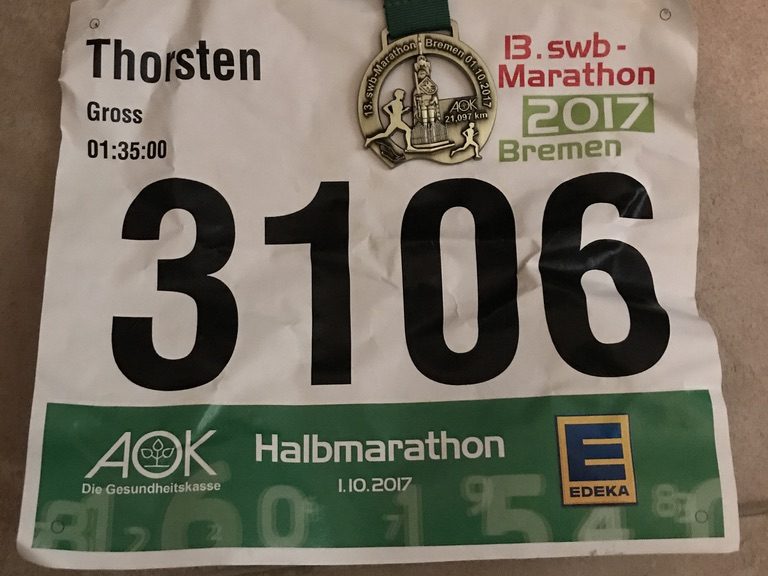 Training Log 17/39 & Race Report Half Marathon Bremen
Training Log 17/39 & Race Report Half Marathon Bremen
Last week has been excellent! The boys and I went to run the Bremen half marathon yesterday and all week revolved around staying sharp and being in form. At least within reason. I still consider this my off season so I didn't beat myself up too much for a beer or two in the evenings and I allowed myself proper food and socializing. We had our little one baptized on Saturday and had a big party with family and friends for her the night before, so naturally I wasn't in "A-Race-Mode", but moreso in "let´s have fun and go smash some"-mode. And it worked very well I must say. The past 6 weeks of focusing more on running and really doing the interval work paid off with a new PR on the half. But from the start.
I haven't been running all that much over the year because my focus was on getting my biking up to speed and maintained an average of 20k per week at best. High running volumes have never really worked for me and so to avoid injury I stuck with my tried and tested approach of limited but very hard interval sessions and very slow long runs. I did a lot of the recovery and easy workouts on the bike to make sure my feet and calves are holding up. My short distance speed was spot on, I could dish out sub 4 minute km's without problems and the long runs were there, too, with the latest expedition being a solo 30k. One thing I didn't do at all, because I find it ineffective and pointless fatigue were tempo runs, so I didn't really know what to expect when the gloves come off.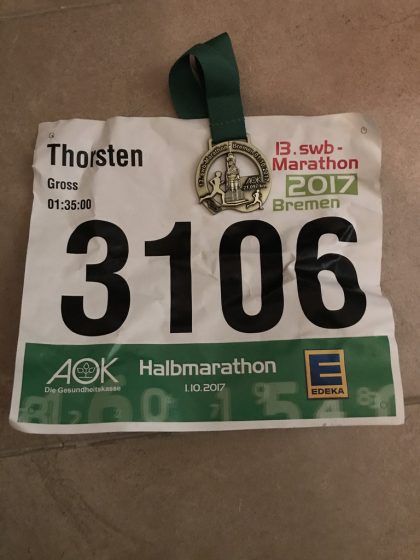 The plan for race day was to go hard, but not kill myself. I was prepared to dig myself a deep hole, but wouldn't fight my way out of it at any cost. If I blew up I would just jog along and be happy with it. I self seeded with the 1:30 crowd and felt good when the gun went off. I didn't monitor my pace or HR closely but went with RPE instead. To make it look easy and stay relaxed was my goal at least for the first 3/4 of the race. I´ve never been much to Bremen before so I enjoyed the city, thanked the spectators and gave as many high fives to kids as I could.
The spectators were fantastic and the course really not bad at all. Around kilometer 13 maybe it took turn and then ran along the river with massive crowds hollering at the runners. This tunnel of noise and love pushed me to a few faster kilometers and when I passed the 16k mark I began to suffer. I did the math and figured I could meet my PR, maybe even improve on it slightly and decided to keep digging. And so went the final 5k with a reasonable amount of suffering, but never too badly until I reached the finish line at 1:27:52. This put me in 79/3225 overall and 16th of my AG. Very pleased with that result and part from extremely sore feet I am now looking forward to four more weeks before we go for our next full marathon.
Diary 38:
Monday – Off after a tough weekend.
Tuesday – Interval running session 10 * 200 to stay sharp.
Wednesday – 45 minute recovery ride on the trainer
Thursday -10k easy run with my mate.
Friday – Off.
Saturday – Rest.
Sunday – See race report above.
Weekly totals (time / distance / TSS):
Swim: 0/0/0
Bike: 12.4 / 0:45 / 19
Running: 37.3 / 2:51 / 229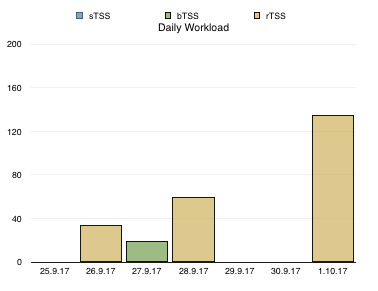 Last weeks goals:
Recover for Saturday – 200s and a few easy runs. –  Yea.
Swim. – No.
Some recovery on the trainer and short HIT workout. Stay sharp, y'know. – Half of it.
Goals for next week:
Begin swim block. Finally.
One long run.
Ride outdoors.