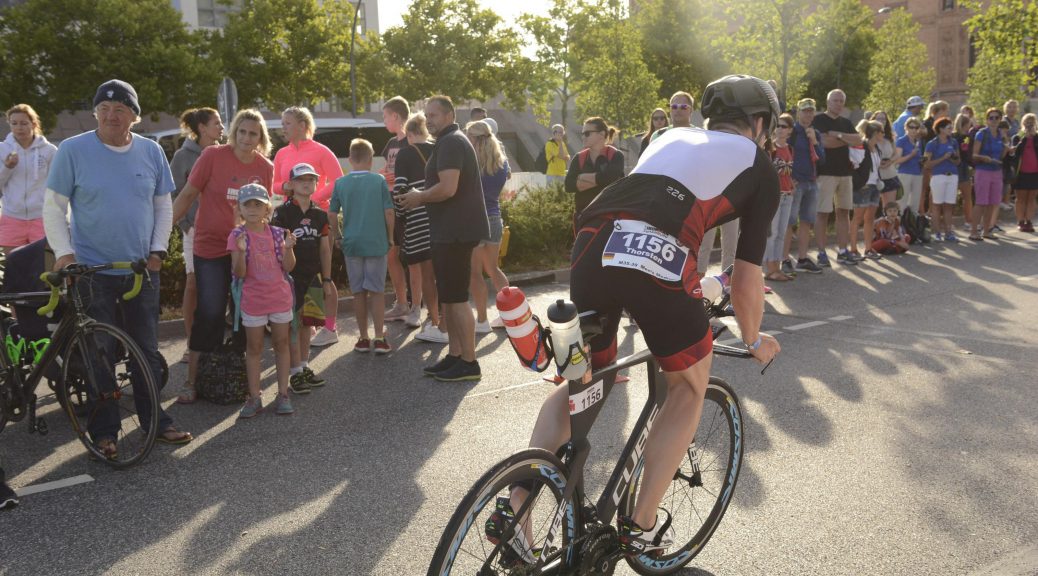 Ironman Hamburg 2018
Ironman Hamburg 2018
Finally the big day has come! Not entirely as expected though. On our way to Hamburg the news hit that the swim would be canceled due to high concentrations of blue and green algae and be replaced by a 6k warm up run. Bit of a bummer that my first ever long distance triathlon would not be an actual triathlon. But we were already on our way, had put in the work and nothing better to this weekend and so we stuck with it.
We arrived at our excellent Airbnb, threw in the bikes and stuff and took the tube to the Ironman village. Registration was smooth, we received a bib, an IM branded duffel bag and zero swag. I must say that this was pretty disappointing. I don't really care much for the swag at races, but but getting nothing and then being pushed through the massive IM gift shop was a bit…. let's call it unromantic. But the officials and volunteers were all lovely and made more than up for it.
After collecting our stuff and visiting the IM village we went home, took a shower and went out for some Italian food. My race plan for Sunday was to take run 1 no-sweat easy, enjoy the bike ride and push through the marathon as best as I could. After a testride in Roth I figured that 170 – 175 NP would be reasonable, for which bestbikesplit predicted 5:15. Needless to say I was very excited! I'd carry 3 bottles with 300 cal Tailwind each and 4 gels and would take on additional water if needed. I mixed a cap of Saltstick in each bottle and prepped my fuel bag for the run with 6 GU's + 2 Salt caps. I haven't done a brick longer than 3 + 1.5 hours before and my open half and marathon are 1:27 and 3:32, so I figured a 3:59 would be a reasonable goal.
We went to check in our bikes on Saturday. Transition here s very long and narrow, only two lanes with two rows of bikes each. Makes navigating easy, but it is a long way from entry to bike out. Anyway, after having packed and unpacked and repacked my run and bike bag 12 million times the night before we racked our bikes, put our bags on the hanger, got into a massive thunderstorm, received our timing chip and went home. Went out for Italian and then to bed. I had a surprisingly good nights sleep. Not much of it, but proper sleep.
On raceday the alarm went off at 4am. Had my traditional english muffins with Nutella and black coffee, tried to do my business without any success and then grabbed my stuff and took the next tube to the race start. A short visit to transition, putting bottles and shoes on the bike and it was all about waiting and keeping calm. That morning everything felt a bit less hectic and more relaxed than other raceday mornings. Might be because the swim ws canceled. Or maybe it was just me – I never felt very nervous or anxious leading up to this race, but only mildly excited to finally put all that work and preparation to work. Anyway, a quick visit to the porta loo and then it was on!
Run 1
Absolutely uneventful. They sent us out on a rolling start, 3 athletes every 5 seconds. Simple out an back on city streets. As planned calm and relaxed for 26:51
T1
Transition here is looooooong. Ditched the running shoes, grabbed bike and helmet, off I went. 3:46.
Bike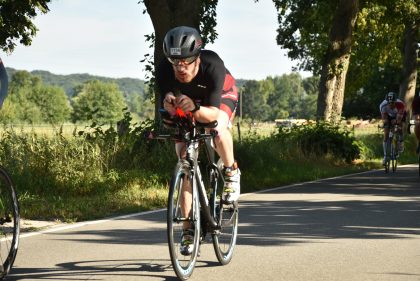 As soon as I jumped on my bike I knew this day would be special. I really really really like riding my bike, everything fit perfectly and my legs felt good, after feeling terrible for most of my taper. The first 10k were hectic with tight corners and a cobbled section that sent plenty of riders into panic. People, on cobbles speed is your friend! I wiggled through and finally hit the open course. As the sun rose above the green fields I took a few moments to soak in the scenery. The landscape is quite nice, the course follows along the Elbe river and through a few small villages. As we rode along most riders behaved well. Many were sceptic beforehand and expected this to become another draft fest. Turns out most riders seemed genuinely trying to ride legal. There were no packs and only the odd few incidents of blatant drafting. Overall it seemed like a somewhat fair race. Not perfect, as it seemed sometimes almost impossible to avoid a semi-legal pace line or to leapfrog up one of these. The marshalls deserve being mentioned. There were plenty, I was overtaken at least 25 times by a quite marshall bike, and I heard rumors they gave out 200+ penalties. Everybody knew this course would be fast, but I was not prepared for how fast it would be. I stuck to my goal of staying below 180NP. Bestbikesplit predicted a 5:16 and so I was shocked when I hit the first turnaround at 45k well under 1:15. My power numbers were okay and there wasn't much wind on the first lap. My legs felt good and I was expecting the marathon to be pure suffering anyway and so I decided to just go for it on the bike and see if I can ride a sub 5. I know, completely arbitrary that number, but it gave me a goal and a reason to floor it. Way back was unremarkable, second half out the wind picked up and I lost a bit of time, but still on target. I had few close calls when riders in front of me pulled out to overtake without looking over their shoulder. On the way back we had a slight tailwind and my new goal of a sub5 bike was well within reach, eventually I hopped off my bike at 4:55. To put into perspective how fast this course is, I did this on 159 AP / 163 NP. On this day many people rode a 4:XX. My time put me 68/277 in M35.
T2
Racked my bike, jogged through transition for what felt like hours. Found my bag, applied sunscreen, changed top, tied shoes, started running.
Run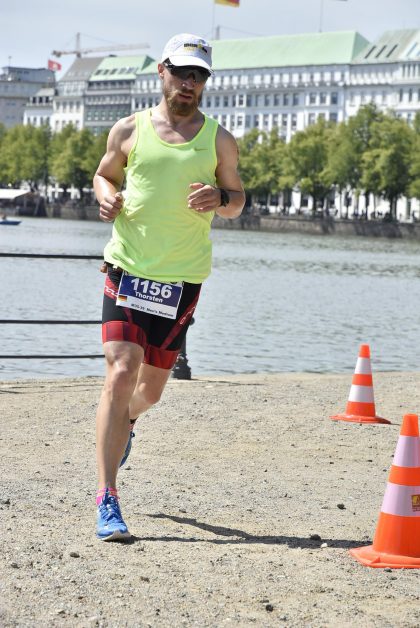 Coming out of T2 I couldn't even comprehend what a monumental task I had in front of me. My primary concerns were pacing, as I learned in my half distances that my gut shuts down soon when I push the pace, and hydration and cooling. We are experiencing one of the worst heat waves ever here and staying cool and hydrated would make the difference. It took a while before I found my rhythm. Luckily I caught a friend at around 4k, an absolute veteran who took me under his wing and managed our pace. We settled in at 5:45/km and I felt okay. I took water at every aid station and put ice in my hat (props to ZenTri who mentioned this trick in one of his podcasts!). It all went reasonably well until the half marathon mark when I had to visit the porta loo and lost my running buddy. From here it all went south, fast. I've been running half marathons and beyond for most of my adult life, but this was the first time I encountered a true mental barrier. I didn't hurt like I do when I go for PR's on half or marathons. There wasn't much pain involved beside a few small blisters forming and some mild chafing in the gentlemans department. I just had this overwhelming desire to walk, stop, sit, lie down. I hated running, I hated Ironman. I swore I would never do such a thing again. I hated myself for being a wimp when my body clearly could have gone on. My pace was all over the place during the third of four laps, with random walks and accelerations and no discernible rhythm. It took me a while to negotiate a plan for the final lap with myself until we reached an agreement at 80/20 running walking each km. Having found some sort of rhythm again I soldiered on towards the finish line. The fact that my 80% running were still between 5:30 and 5:45/km tells you everything you need to know about my mental toughness and Ironman experience. I guess the fact that even missing my goal for the run by half an hour would still leave me exceeding my most optimistic expectations also played it's part in this wimpery. Anyway, the final lap went on and when I finally reached the red carpet I was completely overwhelmed. Final time 4:15:07 and an overall of 9:48:25. Sure, not an actual Ironman, but even if I add an additional 40 minutes for what would have been a reasonable swim time, I'd still beaten my wildest dreams by a long way.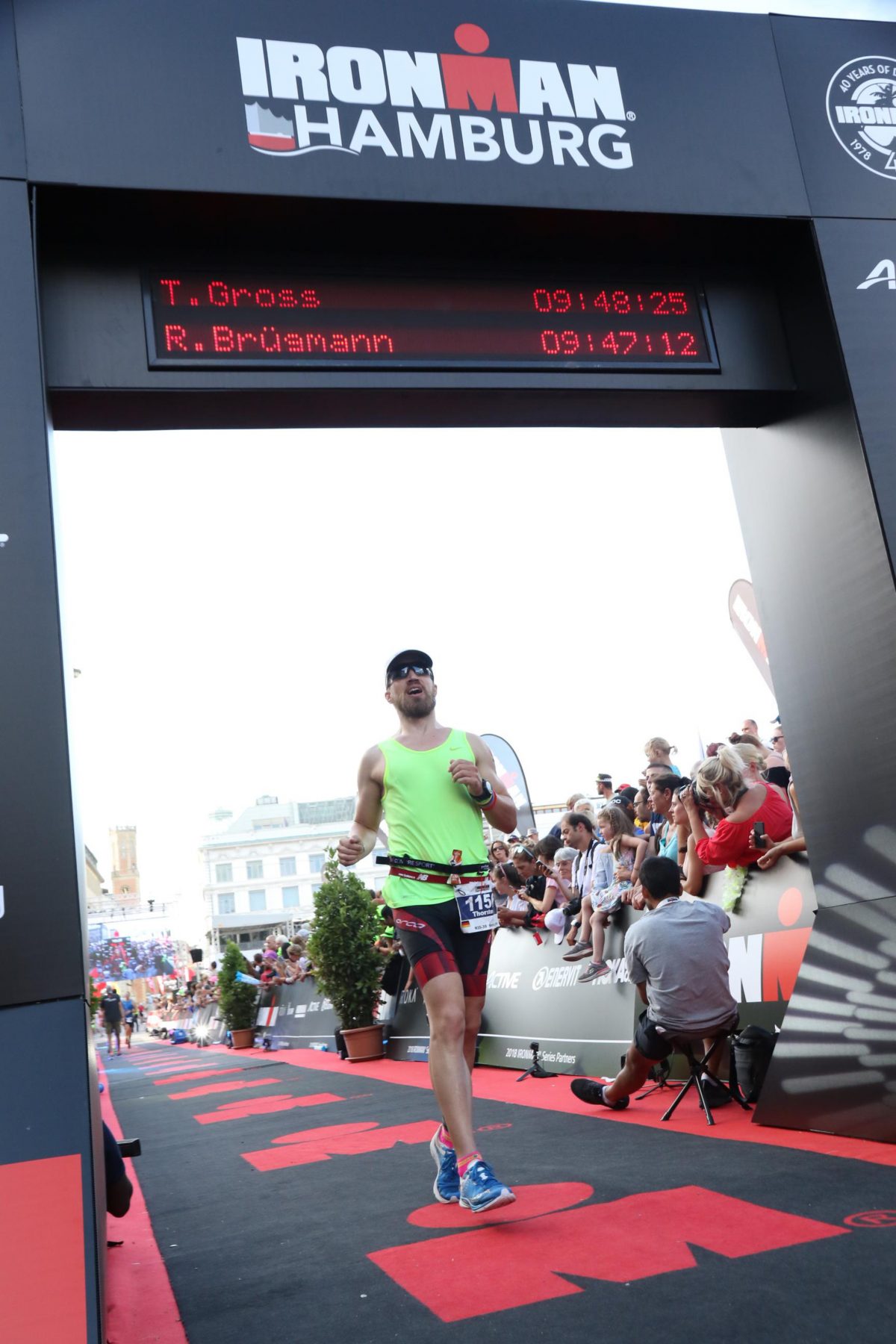 Post Race
One of my friends came in 30 minutes ahead of me, the other was still out there. And he would be for a while. The guy is a very special character. The kindest and most positive soul I've ever met. And frankly the only person I know that would attempt an Ironman without having swum or ridden his TT bike once during prep. He also smoked a pack during the weekend. He's an accomplished ultrarunner and finished several IMs in the past, but is now in his 50s and frankly doesn't care much for structured training. He missed the bike cut off last year, after barely making it out of the water in time and this year was supposedly his final IM ever. The tracker showed him being comfortably within the time limit until he dissappeared from the run course at k25. After a while he resurfaced, having lost 30 minutes and a predicted finish time at 10.30 (It later turned out the meds caught him and almost took him out of the race for being dehydrated and unterf-fueled). We had already showered, collected our stuff and bikes and eaten when we returned to the finish area. I must admit that the finish area at 9.30pm is probably the greatest part of an Ironman. There were still people coming in, the true fighters, and they were celebrated just as much as the next guy. Very emotional. Eventually our buddy made it to the finish line within the time limit, making it 3/3 for out little trio.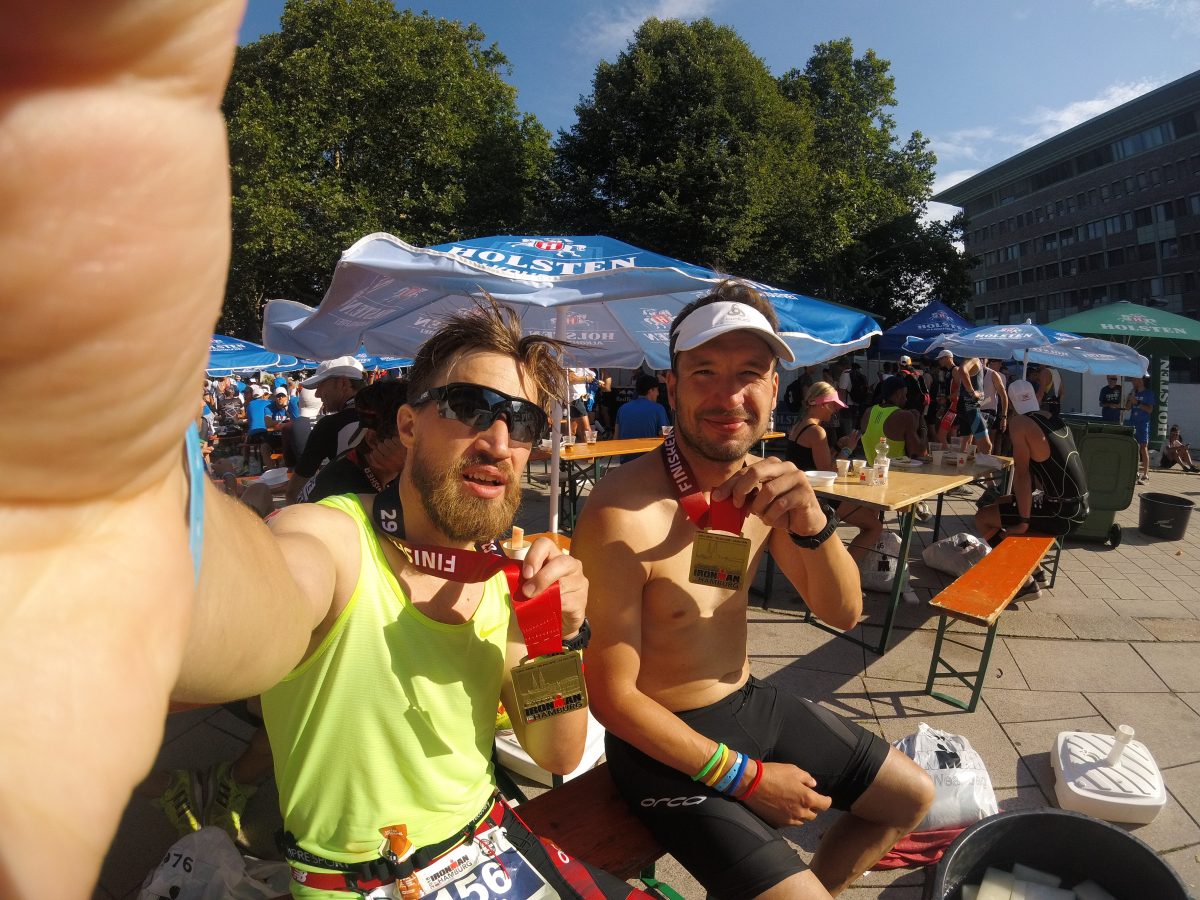 What's next?
I was pretty sure this would be my first and last Ironman for a long time. I lost all my punchiness on the bike and much of my top end running speed during training. I'd much rather focus on becoming a faster 70.3 athlete than doing this grind again. On the plus side I learned a lot about myself. About my priorities in life, proper nutrition, how to train effectively and how to deal with stress. I've become much more calm and relaxed in work and everyday life, because during my big weeks I simply could not afford pointless stress. I guess I'll do another one sometime next year, because I don't feel like I finished an actual IM without having swum, but that will be the last one, I swear!