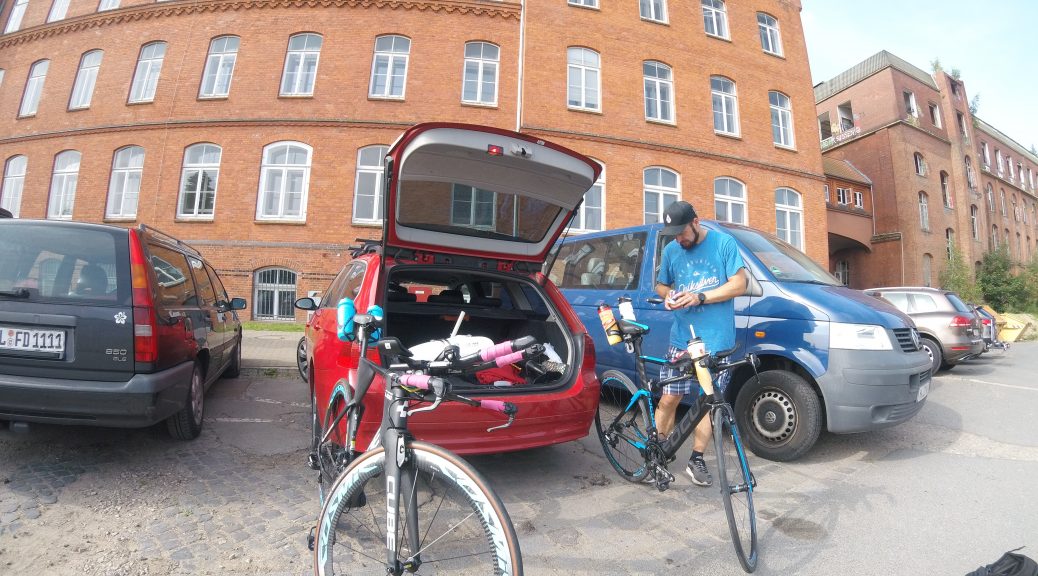 Race Report Hannover Limmer MD
Race Report Hannover Limmer MD
Here I am a day after my latest half ironman distance. I had to bail out of 70.3 St. Pölten the week before due to some hip issues and family commitments and decided to do the "Training Half" here instead. Cheap local event, well organized with a good course and great vibes.
The race went okay as far as prep races go. I got a better feel for my pacing, realized that I need to adjust my nutrition plan slightly and crucially did not kill myself. However, the overall result is mildly disappointing and confusing. In short I am not as fast as I thought I was and what I thought was my weakest discipline turns out to be strongest and the other way around. The upside is that I confirmed all my gear is spot on, transitions went like clockwork and this actually being my second ever half distance I still took some 14 minutes off my PR.
Let's start with the swim. It is an easy swim in a canal. Flat fresh water, straight out and back. It is a mass start, but people are very considerate and nothing to worry. Over the past months I swam regularly, but not as much as my plan describes and so I did not set my expectations too high. My PR here is around 33:30 and that's what I expected. The plan was to position myself at the front, go out hard for maybe 50 – 100m or until I run out of breath and then hop onto the next best pair of feet and draft along. And this time it worked. There were a few very fast guys out front but I actually hung with the first pack, sometimes having to fight to not lose them but still I managed to stay with the group for the entire race without completely killing myself. I exited the water after 31:53 which is way more than what I hoped for. It put me 53/420 overall and top 20 in my starting group. Given that I only learned to swim two years ago this is pretty darn amazing and fills me with a sense of accomplishment.
The jog to T1 is quite long and I took it easy to keep my HR down. Strapped off my wetsuit, found my bike and headed for the bike out. It all went like like clock work and even my flying mount went smoothly for the first time. The secret? New shoes that don't fold themselves shut (fuck you Pearl Izumi!) and the realization that I don't need to sprint-jump-mount. It is okay to stop and put the first foot in, then pedal along and fiddle the second foot in a few feet up the road. I am not Johnny Brownlee, I do this to make the running-through-transiton part easier, not to save overall time.
The bike was my first race with power meter. I was shooting for 175 – 185 NP and did a good job at that (173 NP average, variability index 1.02) and was sort of happy with my position. Some crotch-numbness halfway into the ride, some tight shoulders, but crucially I stayed in aero all the time. I sat up for 2*20 seconds each 30k lap fill up my bta tank and to take on a water bottle and twice per lap for a few seconds to brake for tight corners. Nutrition was planned to be 3*300 cal Tailwind plus some water and one or two gels if I felt like I could take them. This didn't work. the Tailwind was too concentrated and too sweet, without extra water from aid stations I'd have died. And at about 750 cal over 2.5 hours I felt full, no chance of getting in an extra gel. I finished the ride in 2:36:01 which is about 3 minutes faster than my last official HIM ride and 3 minutes slower than my last inofficial result when I bailed out after the ride here last year. Incl. T2 this put me in 166 /420, which is much worse than my swim. Really difficult for me to understand and deal with this situation because my ego and parts of my identity hinge on being a cyclist. I've raced bikes all my life, I understand cycling, I spend most of my time training on the bike and absolutely crush everyone on course when it comes to handling. And then I am just slightly above average? That's tough for my ego. And it is not like the was much room to go faster. I mean I didn't go balls out, but I wasn't slacking either. Maybe a minute or two but not much more.
T2 was unremarkable, rolling dismount went smoothly, short jog into transition, sunglasses, shoes and off I went.
I dreaded the run the most, because it always is the worst in a tri. I was really fighting to go out slow, but still ran into some gut trouble before I found my rhythm. The first 5k were a constant search for that not-so-sweet-anymore spot, where I can keep going without my intestines shutting down (or opening up). I found that pace around 5min/k. I also decided to walk the aid stations, not necessarily because I needed that break, but to make sure I get enough water. Impossible to drink water running from those tiny plastic cups and after 4 hours on the road I needed all the water I could get. I went to some dark places around k7 and k13, but overall it went well. I raced down plenty of guys that went out harder than I did and even managed to raise the pace by a few seconds over the final 5k. Still I came in in a 1:43 which put me in 138/420 which is only marginally better than my ride and considering that my open half PR is a solid 1:27 I am scratching my head what I am doing wrong. Sure I didn't go balls out because I can't take a week to recover, but again it is not like I was enjoying the scenery. It was a hard run and if I would have gone for it there might have been another minute or two to gain, not more.
So sitwrap: Unexpected swim domination, devastating bike performance and a run that motivates to look closer into my training plan. Still a PR on the half distance by 14 minutes and I've officially broken 5 hrs.